Nancy Looby
VP Marketing – RWD
Gonzalo joined the Human Health Project in August 2018 as Marketing Director of RWD. He holds two master's degrees: Master of Science in International Marketing and Master of Science in International Business. Besides having a passion for business and marketing, he also enjoys using his skills to help others.
CEO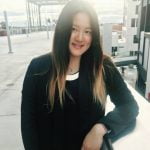 Elizabeth Kim
Health Research Specialist
Elizabeth joins Human Health Project as a Health Research Assistant Intern for Human Health Project. Elizabeth received her Bachelor of Arts in Psychology from UC Riverside and is working towards her Master's in Public Health graduating this December of 2018. She brings eight years of experience in various aspects of the medical field and public health to support and promote wellness in others. Elizabeth's recent experience is in health education to the public and providing biometric screenings. She's covered various wellness topics to help her clients stay healthy, independent and improve their quality of life. She also enjoys giving marketing presentations to clients and healthcare organizations to increase their wellness of community resources. As a Health Research Assistant Intern, Elizabeth will be supporting the Human Health Project to help promote a healthy lifestyle among the global population. Elizabeth recently relocated to San Diego. In her spare time, you can find her trying out new food around the city or fawning over cute animals at the zoo.
Health Research Specialist